Arrivals at Milano Airport. My seatmate was working the shows of fashion week, the coat would not fit in her luggage so…….wear it proudly.
Italy
Day 1-2 Milano
I am tempted to simply hit delete on Milano but propinquity demands I weigh in and give my first (and last) impressions of Italy's largest industrial and business center.
There, I think I covered it.
No, seriously, that's it.
Now granted, I was extremely jetlagged having flown in this 71-year-old carcass from California via London to Milano and did not account for just what that does to the operating systems on a vessel of this age so there is that but, nonetheless, my angst level overrode any "this is new and exciting" programming I usually employ.
Aside from the Airbnb snafus, they can be accounted for after the dust settles from the legal wrangling, the city was, to me, simply grimy, graffiti-ridden, and literally read like a post-industrialist, Russianesque, dreary, mega-mess.
Oh, and it was Fashion Week in Milano, not at all the time to be wandering about although there were some interesting outfits to gape at.  It would seem that every woman in Milano, fashionista or not, HAD to have her "crew" pose, dress, and reconfigure her for her shots in the Duomo Piazza.  Slouching seductively, on a bike carrying gourmet shopping bags, or simply glamming into the hundreds of fawning lenses, they looked poutingly into the cameras that were fluttering away at them.  On the Duomo rooftop, there were young couples, the uber-stylized young women languishing against a column trying for high fashion glamour (or with total boredom, hard to discern the difference) as their boyfriends snapped away on their iPhones. The best were the hyper-dressed models from every country having their photos taken all over the piazzas of Milano. 
The first morning, thankfully, we had the first tickets of the day for the roof of the Duomo is not to be missed, an amazing opportunity to see the constant restoration work always in progress and to walk all over religion in the most architecturally and non-reverent manner possible without incurring the wrath of the uber-faithful-folk who populate this Catholic Country
We scheduled Milan as our entry port to be able to take a side venture up to Lago di Como which neither of us had seen before. A relatively short bus ride north and then a walk-about in Como central then a slightly more harrowing bus ride around a portion of the Lago past George and Amal's villa and then a ferry ride across the lake to Bellagio,
a super-quaint village with amazing views and an even more amazing lunch where we had a fettuccini alfredo tossed table-side in a giant wheel of parmesan cheese. Truly incredible in form, presentation, and taste.
After a looong day, jet-lagged to the maximum, we arrived back at the Airbnb after dark only to find that we had accidentally flipped a light switch that turned off the breaker for the entire flat.  No lights, phones were out of charge so barely enough light the find the panel and the "host" (we use the term loosely) was very unresponsive and left us really…..in the dark.  All the instructions were in Italian but with no phones and no lights, we were…in the dark…in so many ways.
The next morning, dragging all our baggage through the Metro train and into Central Station we caught our train to Firenze (thanks Dave for ALL the planning, ticketing, and pre-sorting you did to get us here) quite content to leave Milano to the Milanese and the models.
Oh. Lest I forget, as in ALL of Italia, the Polizei seem right out of central casting so I suppose Milano was not a total waste.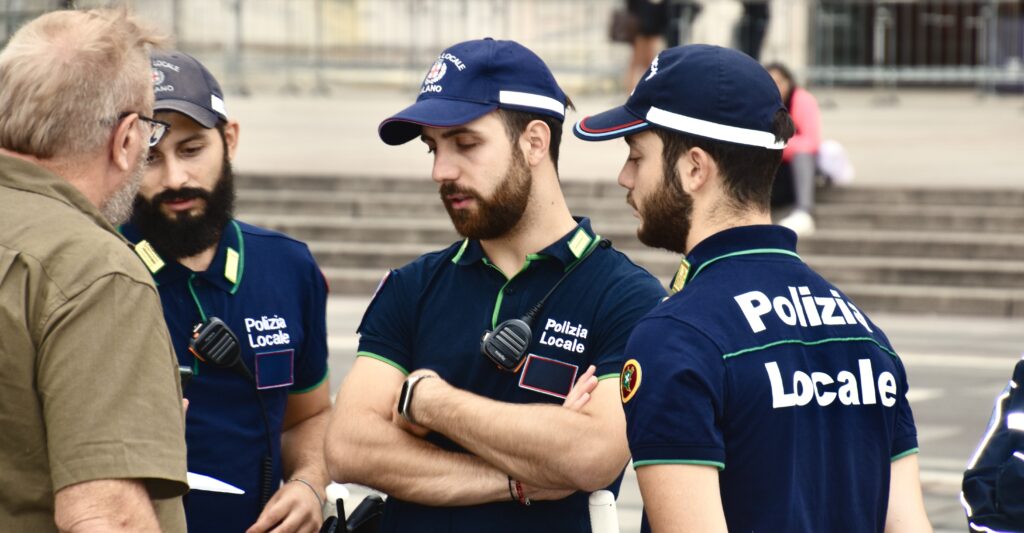 Next up Firenze!