December 12, 2019
Community
Community
For a simple, declarative word, Community is as amorphous as an amoeba; shape shifting with time, place, people, and purpose. How we define community is a very personal attribution, it provides the outlines for our own world as well as telegraphing information about each of us to the greater world as a whole. We spend a major portion of our lives moving in and out of various communities at varied times. Our immediate family is, of course, our first real venture into co-existence with others; we had no choice. As we moved further along in life many of us make concise and sometimes extreme and painful choices about our original community of relatives that helped to inform our early selves.
Things and people and places change. We grow, hopefully, for the better.
School, sport's teams, scout groups, church, best friends, old friends, new friends; they have all been community for us, for a time, at a time.
For me, as a young gay man graduating from college on the east coast, I was definitively in search of myself and a community; one I could not define, had not seen, and had no clue as to how to access. With a grand leap of faith and an airline ticket begrudgingly given to me by my parents for graduation, I landed in San Francisco in 1977. To be slightly more precise, I landed in a Victorian flat on Castro St., the quintessential, ready-made community for a mid-century gay male. A party.
While there, I did manage to define myself in many ways, made lots of friends, expanded horizons I did not know I even had. I became a nascent version of the man I would someday become; one who still, even now, is searching for yet more ways to push myself further while at the same time dig my roots deeper into my community….as I know it now, today. It is radically different from the community I had forty years ago; it should be if I am doing things correctly.
When the party in San Francisco ended, everybody died.
Yet I lived, on and on and on, and continued to try and recreate a community, any community, that reflected my life up until then and one that promised to hold me up for the life yet to come, however short or long or uncertain. I lived in many cities after San Francisco starting with Palm Springs. At that time, the mid-1980s, it was not a comfortable fit for me, but it provided me a career, a home, travel, and many of the trappings of community or at least a community I could exist within for a time. But I knew there was more. Waiting.
The question was; did I have enough time to keep searching?
And so, as Cervantes said: "Until death, it is all life"
So, live on I did, in many places and many communities. I met the man I would spend the remainder of my life with and together we maneuvered the world thorough many more communities, many more families of friends and then one day, seemingly suddenly but in reality not, we were older! And what we were to do at that point came forcefully into view; as if by chance but really, by the design I had set in motion, along with the plan he had sojourned along for years before we met. Those paths combined with a need we both now had for something more, something tangible in terms of community. We really wanted an ease of existence that included friendships as yet unseen and a place that the sun had blessed with time and space and a personal largess of wonders.
Welcome home. Welcome back. Just welcome…..to Palm Springs.
It was not even a decision, the house up north sold itself and the home in the desert found us, exactly the way that an entire hoard of friends would magically appear and cement themselves into the form of a new and lasting family. The ease with which this transition happened was so stunning that it was nearly undetectable; perhaps a sign that "truth will out" to toss a Bit of the Bard in.
Last night, we were at a free holiday gift from our Community God; the movie "The Greatest Showman"
There are no words to emphasize how truly remarkable it is to walk into a local movie palace filled with 300+ members of the larger community and realize that you know about one third of them personally! It is a grounding of one's soul; a peace of being that permeates your body and sends intermittent rushes of joy and gratitude coursing through you. This is one theatre in a place of hundreds of thousands but the community spreads out from there and it does so in large part because of one person:
Eddie Kreg Anderson, our own Greatest Showman
It is Eddie's mission to found his own community and to share it, gleefully and with purpose, with the rest of the town, valley, and all who enter herein. And boy does he know how to throw a party to celebrate this community. Confetti cannons, water cannons, exploding balloons, flaggers on stage; all designed to enhance the interactive movie experience that is "The Greatest Showman". Think "Rocky Horror" (he does that one as well) but with more heart and more of his entire soul wrapped up in it like a Xmass package for us all.
Before the movie started, he told us his story, his evolution, his search for himself and for that community that could feed and nourish his person. Moving to Palm Springs he found many elements already in place. But Eddie wanted to elevate that experience, include more people in the community and throw the doors open to inclusion, uplifting friendships, and a non-judgmental nature that would welcome all and threaten or demean no one.
"The Greatest Showman"
A movie about Freaks and Geeks who find THEIR family in a circus, as so many of us have done throughout the years. The joy and companionship demonstrated in this film actually leap off the screen and energize the audience. Filled with music and movement that transcends mere earth-bound realities, "Showman" shows us how to BE the community we are looking for. How to become the people who create their own community that supports itself and each other. I only heard a happy babbling consensus of joy as we left the theatre.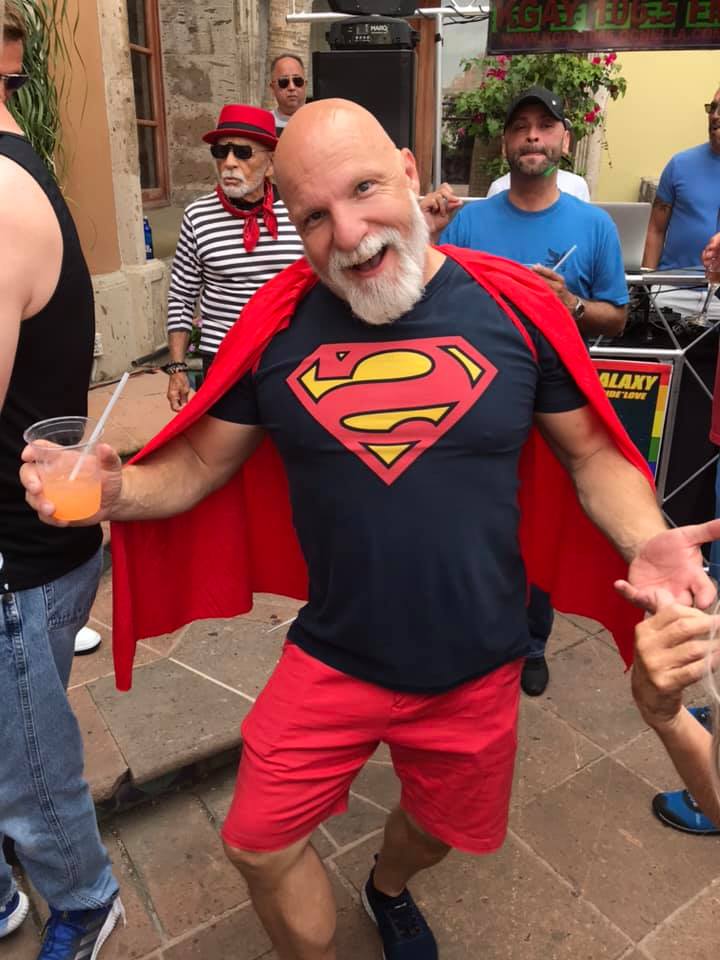 Eddie Kreg Anderson is OUR Greatest Showman
Tonight, I am over the moon grateful for our community.